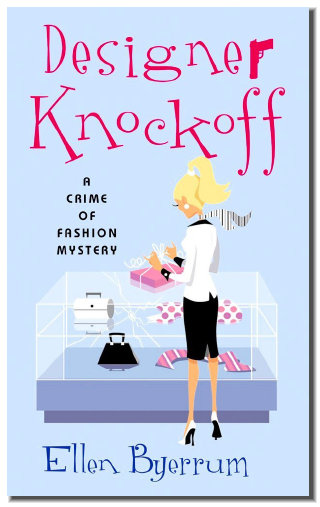 Designer Knockoff
The Second Crime of Fashion Mystery
SIGNET ISBN 0-451-21268-1 $6.99
"Devilishly funny! Intelligent,
insightful and spunky."
Scripps Howard
News Service
"Wily and whimsical."
The Barnes and Noble Review
"Clever and intriguing...
It's a pleasure to watch Lacey.
Clever wordplay, snappy patter, and intriguing clues...
A cut above!"
Romantic Times
High crimes and haute couture heat up The City Fashion Forgot
Skeptical fashion reporter and stylish sleuth Lacey Smithsonian returns in the second volume in the Crime of Fashion series. This time she becomes entangled in a fabric of deceit and death when high fashion collides with low dealings in very unstylish Washington, D.C. A missing Congressional intern's scandalous secret, a New York fashion dynasty's closetful of skeletons, a young designer's unsolved disappearance, and a long-lost scrap of black market silk from World War Two--it's a pattern custom-tailored for murder. And what on earth does her beloved Aunt Mimi's trunk full of memories and long-forgotten dress patterns have to do with the faceless but well-dressed body in the swamp? Lacey and her motley crew of friends and conspirators race to unravel the truth behind two disappearances sixty years apart and unmask the killer behind a dress to die for.
Lacey's Fashion Bite of the Day:
Shopping under the influence of temptation? Beware of chocolate highs, bogus bargains, frivolous friends,
and impossible fantasies. Or are you really ready to jet off to Spain, just because that
slinky little white dress whispers, "Barcelona"?
All contents © Ellen Byerrum. All rights reserved. Website administration by Bob Williams