PLAYS
Eliot Byerrum
is my theatrical pen name.
A Christmas Cactus
and
Gumshoe Rendezvous
are published by
Samuel French
. Please contact the publisher concerning performance rights and royalties. For my other plays, please contact
me
.
A Christmas Cactus
A holiday mystery comedy in two acts
Christmas Eve is no bed of roses for struggling private eye Cactus O'Riley, a fiery redhead with a bad case of the holiday blues. Being a P.I. is a tough business. Is she really cut out to be a detective? Should she try to scrape up the rent, or close up shop for good?
The last little surprise package she needs is a lovelorn deputy D.A., a pair of armed-and-goofy fugitives hunting some dead private eye, and her male secretary's overbearing mother -- who mistakes a tense hostage situation for the perfect little holiday murder mystery party. Just what she's always wanted! And just what Cactus didn't need this Christmas Eve.
It's a Dickens of a Christmas for Cactus as she digs up long-buried mysteries, unwraps a few small miracles, and takes a second chance on love and luck--and the complicated life of a private eye.
A Christmas Cactus has been produced across the US and Canada, often just in time for Christmas.
Gumshoe Rendezvous
Two one-act mystery comedies
Remedial Surveillance Teaching a night school private eye class? Headache enough for this burned-out ex-detective. And Buzz's new "star pupil" Irene is a dizzy wannabe gumshoe who's seen too many old movies. But Irene's surveillance homework not only catches Buzz with his pants down, it might just save his hide.
Deja Rendezvous Partners? Buzz and Irene?! Yes, but their new private eye biz isn't exactly booming and they can't even agree on splitting up. Can this unlikely partnership blossom before a femme fatale out of Buzz's past poisons their relationship (and a lot more)?
Boom Town Blues
A comedy in two acts
Breaking news! ANTI-GUN SENATOR GETS SNOWBOUND IN GUN-CRAZY WESTERN BOOM TOWN! Snow falls, roads are closed, tempers flare left and right, and trigger fingers itch. Meanwhile, one young female reporter is caught in the middle. Will this story be the scoop of a lifetime for her? Or the end of the road?
Ghost Dance
A drama in two acts
Long ago, they say, the Ghost Dance could make the dead rise and walk the Plains. When a woman who can't let go of the past lures her old lover to the site of a forgotten massacre, will ghosts rise to stalk the living once again?
The Angel of Death Rises Early
A drama in two acts
A troubled female private eye. A tough case she never wanted. A murdered woman who might have been her double. A friend who might be her killer. Who will the angel of death come for today?
Interviewing Techniques for the Self-Conscious
What they would never dare tell you in your job interview. What you could never dare ask the interviewer -- but wish you could. What if somehow you could both say exactly what you're thinking?
Red She Said
Stress is not just a byproduct in this office, it's our most important product! But one very stressed-out woman decides she's had enough and takes action. Maybe it's finally time to give some of that stress back -- to the Boss From Hell.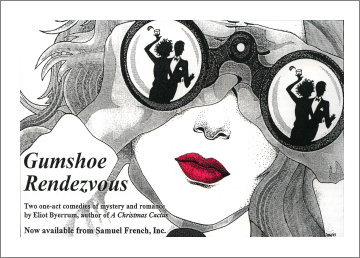 All website contents © Ellen Byerrum, except as specified. All rights reserved.

BUYING MY BOOKS
My books and plays are available from online booksellers and traditional bookstores. Click on the stack of books at the right to go to my Book Shopping page. Most of the links there take you directly to my books. Thanks for shopping!