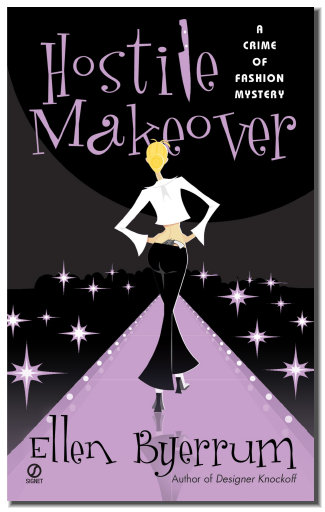 "Playful... Quirky characters keep the plot skipping happily along. As smooth as fine-grade cashmere on an autumn day in the Federal City."
Publishers Weekly
"A very talented writer with an offbeat sense of humor."
The Best Reviews
"Fun and witty mystery with a great female sleuth. An unexpected twist lends this mystery a very satisfying ending. Totally delightful... a fun and witty read."
Fresh Fiction
If looks could kill, this makeover might be murder...
With a messy murder case in the hothouse world of haute couture just behind her and a long-delayed romantic weekend just ahead of her, Lacey Smithsonian promises her once-a-cop-always-a-cop boyfriend that this weekend she'll definitely stay out of trouble. But of course trouble follows Lacey like static cling. She's scheduled to interview reality TV makeover success story Amanda Manville, now a supermodel diva from Hell. The inside skinny on Amanda is that she's a prima prima donna who might have a deadly secret. But the daunting 'Frankendiva' begs Lacey to help stop an elusive and frightening stalker. As if she doesn't have enough trouble on her hands, with her mother and her sister bent on an extreme makeover on Lacey's life. Because being sensible is for someone who wears ugly shoes, Lacey steps smartly into the path of drive-by shootings, speeding stolen cars (her own!), and the office jinx. And she learns that sometimes makeovers can be murder...
Lacey's Fashion Bite of the Day:
Life is not a dress rehearsal! You're the star of your own life, aren't you? So dress like the glamorous leading lady, not the understudy--or like a drab extra in a dreary foreign film, or one of those bad Washington thrillers
that can't even get the Metro stations right.
HEADLINE CRIME OF FASHION NEWS! Hostile Makeover: The Game...
My third Crime of Fashion mystery is now... a video game?! Believe it or not, Hostile Makeover
has been adapted as a downloadable hidden-object video game. Play online, buy your own copy, or
Hostile Makeover
The Third Crime of Fashion Mystery
SIGNET ISBN 0-451-21616-4 $6.99
(And now a video game too! Details below.)
All contents © Ellen Byerrum. All rights reserved. Optimized for IE 8. Website admin by Bob Williams.
TO BUY THE BOOK, ON THE WEB OR BY PHONE
Click on the book jacket for one of my favorite
independent mystery booksellers.