Russia
Eye-popping Killer Hair cover art! Here's the Russian bookseller:
From the Russian bookseller's Web site:
Vyrazhenie "za takuyu prichesku ubit' mozhno" tainstvennyj prestupnik voplotil v zhizn' samym prichudlivym sposobom! I puskaj politsejskie schitayut, chto znamenitaya stilistka, virtuozno orudovavshaya nozhnitsami, pokonchila s soboj. Lejsi Smitsonian, veduschaya skandal'noj kolonki o bezvkusno odetykh i plokho prichesannykh bogatykh i znamenitykh zhenschinakh, znaet luchshe - stilistku ubili. Za chto? Najti otvet na etot vopros dolzhka sama Lejsi. I dejstvovat' nado bystro - poka man'yak ne uspel sdelat' ee sleduyuschej zhertvoj.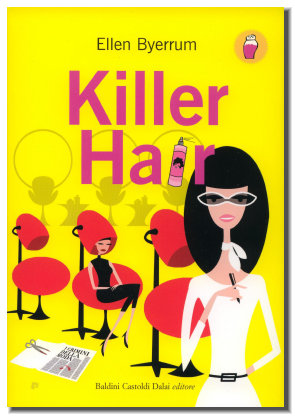 From the cover of Baldini Castoldi Dalai's
Italian edition of Killer Hair:

Lacey Smithsonian guardo la sfortunata ragazza e penso:Oh mio Dio, e la pettinatura peggiore che abbia mai visto. E poi dicono che non si muore per un brutto taglio di capelli! Non appena quel pensiero le attraverso la mente, aggiunse: Sei proprio una stronza, Lacey. Ma non poteva farci niente. Era davvero un'orribile pettinatura.

ATTENZIONE:
LA MODA PUO NUOCERE GRAVEMENTE ALL SALUTE

All contents © Ellen Byerrum. All rights reserved. Optimized for IE 8. Website admin by Bob Williams.