THE CRIME OF FASHION MYSTERIES, 4-6
Raiders of the Lost Corset, Grave Apparel, Armed and Glamorous
Grave Apparel
Fifth in the Crime of Fashion series
Christmas in Our Nation's Capital? It's a killer.
"You have to come NOW! The lady is hurt!" A frightened child's voice draws fashion reporter Lacey Smithsonian down a dark alley in Washington, D.C., and into a mystery that threatens more than just her Christmas spirit. On the eve of her newspaper's big holiday party, the newsroom's crankiest Grinch falls victim to a mysterious assailant wearing a Santa Claus cap. A rival journalist? A political terrorist? An enraged reader? Or something far more sinister?
The victim's life (and Lacey's newsroom) are full of suspects. And what's her boyfriend Vic secretly building in his garage? Lacey's holiday glow is fading faster than reindeer can fly. To save Christmas, she searches the streets for one elusive and endangered murder witness: a runaway child dressed in a stolen shepherd's robe. Can she find this little lost lamb in the wintery wilderness of Washington -- before the wolf finds them both?
Lacey's Fashion Bite of the Day: "Wearing tweed on the beach? Flip-flops in the snow? You're a victim of SAD: Seasonal Apparel Disorder. Get professional help now! Call your stylist, and remember: Never wear flip-flops to the White House."
Grave Apparel is also in large print.
Armed and Glamorous
Sixth in the Crime of Fashion series
Welcome to Private Eye School! The homework will kill you.
Lacey Smithsonian's journalism career is going nowhere fast. After collaring killers, saving lives, rescuing homeless children, and recovering priceless jewels (which she didn't get to keep), she's still stuck on the fashion beat at the third-string newspaper in Washington, D.C. (The City Fashion Forgot). She needs a "serious" beat.
What's a savvy reporter to do? Why not take a private eye class! Polish her investigative skills, learn to sleuth like a pro (like her boyfriend, Vic Donovan), and perhaps even land a non-fashion-related news story or two, while keeping it all under cover. It's a plan.
But then she meets her crazy classmates, stumbles over the haute-coutured corpse in the Jaguar, spends a girls' night out at the gun range, and flunks Surveillance 101. All Lacey wanted was a shot at a new beat! So why are people shooting at her? And can she hit the bull's eye before the killer shoots again?
Lacey's Fashion Bite of the Day: "Of course diamonds may be a girl's best friend, but pearls are a powerful lady's perfect companion. So polish your pearls, girls! Diamonds are for damsels who dazzle. But pearls are for women with power."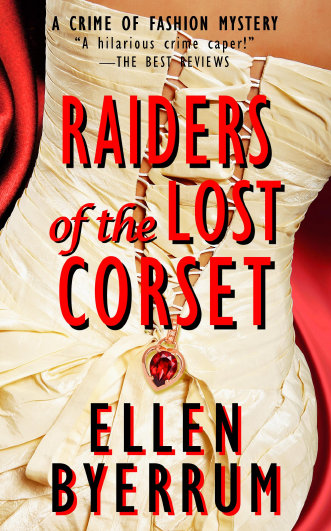 Raiders of the Lost Corset
Fourth in the Crime of Fashion series
"Find the corset!" Corset maker Magda Rousseau's dying words send her friend, fashion reporter Lacey Smithsonian, racing against a killer in a high-stakes scavenger hunt. Magda's lost family secret was the fabled jewel-filled corset of a Romanov princess, and finding it would mean wealth beyond her wildest dreams. Lacey signs on for the fashion story of the century -- along with a trip to Paris, the city of her dreams, and refuge from her romantic troubles.
"Bloody thread, knock 'em dead!" was an old theatre costumer's good-luck wish, Magda's favorite saying. A drop of blood on a costume from the seamstress who pricks her finger, she said, ensures the play's success. But murder ends Magda's dream. A princess died in this lost corset! Who wouldn't kill for it? Lacey follows a tangled thread of clues across two continents, pursued by spies, jewel thieves and a murderer. Will this bloody thread lead Lacey to the fabulous lost corset? Or bring her face to face with a killer?
Lacey's Fashion Bite of the Day: "Need the swagger of a sexy secret under your conservative suit? Need that jolt of pure physical confidence that comes from within (or someplace pretty close to it)? You need -- the Red Bra of Courage!"
All website contents © Ellen Byerrum, except as specified. All rights reserved.
BUYING MY BOOKS
My books and plays are available from online booksellers and traditional bookstores. Click on the stack of books at the right to go to my Book Shopping page. Most of the links there take you directly to my books. Thanks for shopping!