THE CRIME OF FASHION MYSTERIES, 7-9
Shot Through Velvet, Death on Heels, Veiled Revenge
Death on Heels
Eighth in the Crime of Fashion series
"NEVER!" Lacey Smithsonian swore she would never go back to Sagebrush, Colorado, that scruffy hard-luck Western boomtown where she'd earned her reporterís spurs. But three young women were murdered there, and the accused is her old boyfriend, Sagebrush rancher Cole Tucker.
Lacey cowgirls up! She heads out West, in her best cowboy boots, to help prove Tucker's innocence. And to resolve the last of her old feelings for the man she once loved and left. Naturally, Lacey's plans donít sit well with her current beau, private eye Vic Donovan, who has his own personal history (and game plan) in Sagebrush.
Tucker kicks over everyone's game plan, abducting Lacey in a daring courthouse escape. On the run with her old flame, deep in the badlands of northern Colorado in stolen vehicles and on horseback, with Vic and the sheriff's posse (and a vicious killer) in hot pursuit, Lacey's world turns upside down. Who can she trust? Tucker or Vic? The law, or her own feelings? Or her reporter's instincts?
Lacey's Fashion Bite of the Day: "Beware of killer heels: the ones you date and the ones you wear. Choose high heels that fit and lift your spirits, and kick those other heels to the curb!"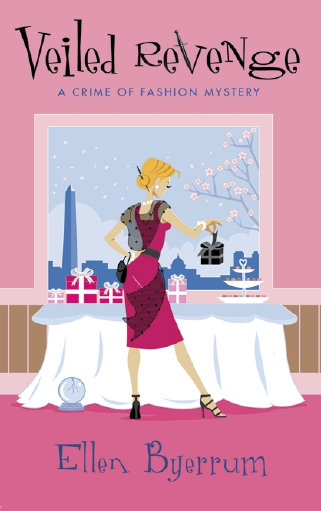 Veiled Revenge
Ninth in the Crime of Fashion series
A haunted Russian shawl? A dark family legend come to life -- and stalking the living? Washington fashion reporter Lacey Smithsonian has always believed clothes can indeed be magical, but sheís never thought they could carry a curse. Until now.
Laceyís stylist and BFF, Stella, is finally getting married (with a lot of luck, and a little help from her friends). Lacey's fellow bridesmaid (and psychic fortune-teller) Marie Largesse arrives at Stella's bridesmaids' bachelorette bash wearing a stunning Russian shawl. A shawl, Marie warns, that can either bless or curse the wearer. When a party crasher mocks the shawl and is found dead the next morning, Stella and her guests fear the ancient curse of the Killer Shawl has been unleashed.
Runaway limos lead to gunshots in the night and puzzles within puzzles. Lacey needs all her famous "Extra-Fashionary Perception" to stop a shadowy villain, one who vows that nobody at this wedding will live happily ever after.
Lacey's Fashion Bite of the Day: "The bride always rules! What to wear to a wedding? Dear wedding guest: Resist the temptation to use your outfit to make political statements, sneer at tradition, or rebel against your parents. Remember: That's the bride's job."
Shot Through Velvet
Seventh in the Crime of Fashion series
The last velvet factory in Virginia is shutting down for good, killing off jobs and a dying small town. Blame it on changing fashions, the recession, and the global economy. Fashion reporter Lacey Smithsonian is there to cover this sad last day on the job. But with her own job in danger and her newspaper in deep financial trouble, this story hits a little too close to home. And the centerpiece of Lacey's factory tour? A dead body spooled in the velvet! The manager everyone at the factory hated, the "Blue Devil" is dead in his own vat of blue dye.
Motives, suspects and rumors run riot as murder follows murder. Is this a killer on a purely personal vendetta, or a mysterious "Velvet Avenger" bent on revenge for the velvet workers' shuttered factory and lost jobs? And is the killer just using Lacey for publicity -- or is she too on the Avenger's list? Only the murderer's calling card is chillingly clear: a blue velvet ribbon. As the killer strikes ever nearer, Lacey finds she has much more at stake in this story than just her job.
Lacey's Fashion Bite of the Day: "Has the Recession Depression got you down? Donít give in to the blues. Resolve to dress up in the downturn! When your ship finally does come in, you'll be the chicest woman on the dock."
All website contents © Ellen Byerrum, except as specified. All rights reserved.
BUYING MY BOOKS
My books and plays are available from online booksellers and traditional bookstores. Click on the stack of books at the right to go to my Book Shopping page. Most of the links there take you directly to my books. Thanks for shopping!