THE CRIME OF FASHION MYSTERIES, 1-3
Killer Hair, Designer Knockoff, Hostile Makeover
Designer Knockoff
Second in the Crime of Fashion series
Fashion reporter and stylish sleuth Lacey Smithsonian returns as high crimes and haute couture heat up Washington, D.C., "The City Fashion Forgot."
Lacey tangles with a fabric of deceit and death when high fashion meets low dealings in unfashionable Washington. A missing intern's scandalous secret, a New York fashion dynasty's closetful of skeletons, a young fashion designer's unsolved disappearance in the 1940s, and a long-lost scrap of black market silk from World War Two -- it's a pattern custom-tailored for murder.
And what on earth does her beloved Aunt Mimi's old steamer trunk, full of memories, fashion memorabilia, and long-forgotten dress patterns have to do with that well-dressed body in the swamp? Lacey races to unravel the truth behind two disappearances sixty years apart -- and unmask the killer behind a dress to die for.
Lacey's Fashion Bite of the Day: "Uh oh! Shopping under the influence of temptation? Beware of chocolate highs, bogus bargains, frivolous friends, and impossible fantasies. Or are you really ready to jet off to Spain just because that slinky little dress whispers, 'Barcelona'?"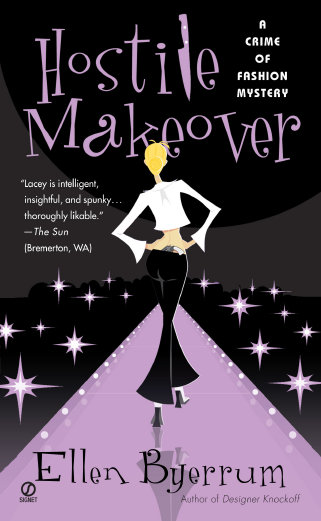 Hostile Makeover
Third in the Crime of Fashion series
If looks could kill, this makeover might be murder.
With a messy murder case in the hothouse world of haute couture just behind her, and a romantic getaway weekend just ahead, fashion reporter Lacey Smithsonian promises her new boyfriend she'll stay out of trouble. For once.
But trouble follows Lacey like static cling on a silk skirt. Her crazy fashion beat brings her a hot interview with Amanda Manville, reality TV makeover success story turned Supermodel Diva From Hell. Amanda has dangerous secrets -- and a scary and elusive stalker. As if that weren't enough, Lacey's mother and sister are in town, bent on doing an extreme makeover on Lacey's entire life.
Because being "sensible" is only for those who wear sensible shoes, Lacey steps stylishly into the path of drive-by shootings, speeding stolen cars (her own!), and the infamous office jinx. And she learns that sometimes makeovers can be murder.
Lacey's Fashion Bite of the Day: "Life is not a dress rehearsal! You're the star of your own life, aren't you? So dress like the glamorous leading lady, not the understudy or a drab extra in a dreary foreign film."
Hostile Makeover is also the second movie in the Lifetime Network series adapted from Ellen Byerrum's Crime of Fashion novels.
Killer Hair
First in the Crime of Fashion series
Fashion reporter Lacey Smithsonian tackles her first deadly fashion crime in Washington, D.C., "The City Fashion Forgot."
A beautiful dead hairstylist, a straight razor, and a horrible haircut? The D.C. cops call it an open-and-shut case of suicide. But Lacey's nose for nuance, her subtle style instincts, and her "punk goddess with a heart of gold" hairstylist, Stella, tell her this fashion crime is really murder.
Wading through a murderous swamp of diva hairstylists, Washington political scandals, and suspiciously "assisted" suicides, Lacey must tease out the twisted truth before she falls victim to the Capital City's next fatal coiffure. Only her wits and style sense can save her, along with the help of her screwball stylist, a short-circuited psychic, and the one man out of her past she thought she'd never have a second chance with. And they say a bad haircut can't kill you! Or can it?
Lacey's Fashion Bite of the Day: "Never wear pink to testify before the Special Prosecutor! Accused of high crimes? Dress in high style, not like a little Bo Peep who has lost not only her sheep, but her wits as well."
Killer Hair begins both the Crime of Fashion Mysteries and Lifetime's Crime of Fashion movies.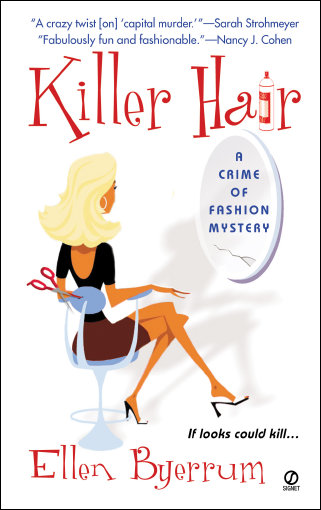 All website contents © Ellen Byerrum, except as specified. All rights reserved.

BUYING MY BOOKS
My books and plays are available from online booksellers and traditional bookstores. Click on the stack of books at the right to go to my Book Shopping page. Most of the links there take you directly to my books. Thanks for shopping!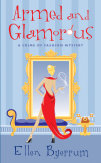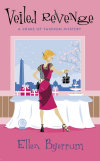 The Crime of Fashion Series